What to Shred in Los Angeles County
When it comes to determining which documents to shred, narrowing them dawn can become quite difficult. There a number of documents that could pose a risk if they are not disposed of properly. Once you allow information to leave your possession—in the trash or in the hands of a Los Angeles recycling company—you've lost control. You have put yourself and your California company at risk. Below is a list of this we think should be shredded regularly.
Employee-related information: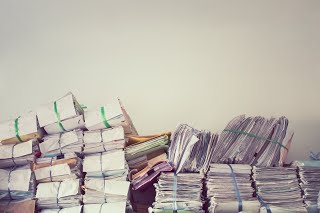 All Payroll documents
Personnel issues including performance appraisals and disciplinary reports.
Job application
Anything with employee addresses and personal information
Training manuals
Outdated medical records
Legal:
Contracts
Legal correspondence
Records from your Insurance Agency
Expired Contracts and Legal Documents
Accounting:
Budgets
Internal accounting reports
Customer lists
A/R and A/P printouts
Bank Statements
Unused Checks
Credit Card Statements and Receipts
Operations:
Corporate records
Purchase Orders
Supplier Lists
Procurement Requests
Proprietary Data
Sales:
Prospect lists
Customer lists
Drafts of sales strategies
Marketing related documents
Los Angeles Paper Shredding offers secure self-contained, ultra fast, mobile, shredding service options that come directly to your CA office. Your private records are efficiently and securely shredded without the interruption of your daily business operations. We work to save you time, expense, and man hours. You receive a cost-effective alternative to maintaining electronics, space, and personnel.

Get FREE Quotes on Shredding Services in the Los Angeles Metro Area Today!
Interested in learning more about protecting yourself with on site shredding, off site shredding, or hard drive shredding? At Los Angeles Paper Shredding, we make it our top priority to provide you with flexible, affordable, and trustworthy service options. If you are in need of on site, off site, or hard drive shredding services in L.A., we're here to help.
Fill out the form to the left or give us a call at (310) 606-2151 to get started on your free quote today!