Offsite Shredding in Los Angeles
Off site shredding is the process of picking up materials for destruction from your location for delivery to a secure Los Angeles plant.
Off site shredding is a better option for very large document shredding projects because of the enhanced shredding capacity of our plant's shredder. Off site shredding is also extremely convenient for customers who will regularly be needing paper shredding services, and this option is often cheaper and saves you precious time, as you will not be needing to witness each document shredding job.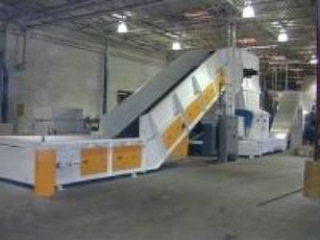 Trained security personnel load your files into a locked truck, guarding them until they are delivered to a locked LA paper shredding plant. At the plant, only authorized personnel come into contact with your documents. Your documents fed directly into an industrial shredder, which is capable of processing over 20,000 pounds an hour.
Once the materials are shredded, they are baled and shipped directly to a paper mill where the material is turned into pulp and recycled into new paper. This process is fully compliant with California and federal privacy laws.

How Los Angeles Off Site Shredding Works
Documents that need to be destroyed are collected by trained security personnel.
Then, they are safely transported to the document shredding plant. Only authorized personnel are allowed to come into contact with your documents at the plant.
Your shredded documents are co-mingled, scrambling the pieces thoroughly so that they can't be pieced back together. Then, the paper is baled and pulped down into new paper.
A Certificate of Destruction is sent to you for your records.
The Certificate of Destruction also contains a list of witness signature of our personnel who watched the shredding of your documents.
If know you will need a document shredding service on an ongoing basis, you can have locked bins brought to your LA location for you to place your documents for destruction in. When it comes time for your regular paper shredding service, our contractors will shred whatever is in the bins for you so that you don't have to worry about making space for all those documents in the meantime.
This option is great for businesses that regularly have documents containing sensitive information to dispose of and want to ensure they remain compliant.
Let Los Angeles Paper Shredding Take Care of Your Off Site Shredding Needs Today!
There are many reasons why a residence or business would choose to shred their documents off site. Whatever your reason, Los Angeles Paper Shredding is here to help. Our Southern California contractors promptly shred your documents at a secure facility and provide a Certificate of Destruction that verifies the destruction of your documents.
For cheap, fast, reliable off site shredding, contact Los Angeles Paper Shredding today! Just fill out the form to the left to request a free, no hassle quote, or give us a call at (310) 606-2151.