Los Angeles Paper Shredding
HIPAA Compliant
FACTA Compliant
CA Law Compliant
We Recycle
About Los Angeles Paper Shredding
Protect yourself from identity theft with a professional Los Angeles based document destruction service. Our local contractors offer several flexible and affordable paper shredding services that will help protect your family and business

Southern California businesses cannot afford to neglect the proper disposal of sensitive documents. California S.B. 1386 requires every business to "take all reasonable steps to destroy a customer's records that contain personal information", while FACTA and HIPAA are federal laws that require the shredding of personal information before it is disposed of.

The best way to securely destroy your documents is with the assistance of a professional paper shredding service provider. Los Angeles Paper Shredding contractors can complete your shredding project in no time, regardless of size. They can ensure that your documents are promptly recycled and their disposal is fully compliant with California and federal laws.

Furthermore, careless disposal of private documents at home can put you and your family at risk for things such as identity theft, fraud, and blackmail. Thieves still consider your mailbox and trash the best source of personal information. Make sure you are not leaving anything they can use to steal your identity or open credit cards in your name.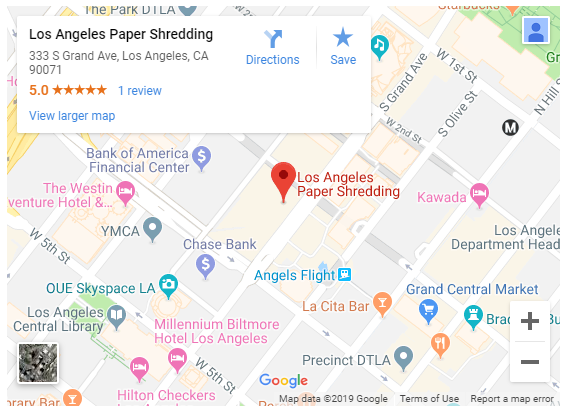 Get Free Quotes on Paper Shredding Services in LA
Document Shredding Services in Los Angeles
For your convenience, our partners also offer several scheduling options:
One-time Purge: If you only have one document shredding project planned, a one-time purge service is exactly what you need.
Ongoing Shredding: If you anticipate needing document shredding services on a regular basis, our contractors can conveniently schedule a weekly, monthly, or quarterly shred. You are given free, secure containers to store your documents in between our regular visits.